10 types of Blinds to perfectly enhance your window décor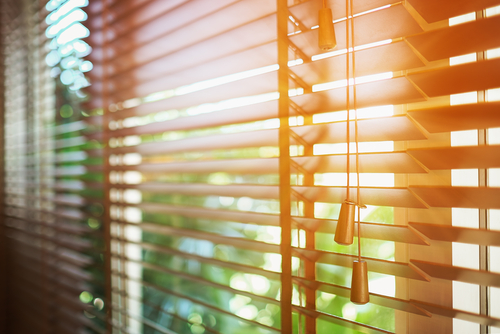 With a great combination of functionality, style, affordability and convenience, blinds are without a doubt, the most popular window treatment among home and business owners today. However, with a wide array of choices out there that offer every possible permutation and combination of style, privacy and lighting preferences it could prove a bit overwhelming for homeowners to find the perfect choice for their windows. At Bartlett Blinds and Shutters, we've been helping our customers find the right choice for their homes from a wide range of high quality custom window treatments ever since we started out as a veteran-owned and operated business. Here, we bring you a compilation of the top 10 types of blinds that every homeowner should consider when shopping for window treatments.
1. Wood Blinds
Wood blinds give a home a modern and yet soothing look with its natural charm. Being great insulators, they block excess heat and sunlight and help maintain a cool temperature within the room. Wood blinds are generally made either from Bass wood – which results in stronger, more robust blinds and Ramin wood – which are not as strong and are therefore, cheaper.
2. Faux Wood Blinds
Get the natural look of wood blinds without its vulnerability to moisture and humidity. Like wood, faux wood blinds too are available in a range of finishes and colors and provide great insulating properties during both summer and winter months. Since they're manufactured from PVC plastic materials, they are guaranteed to be more resilient and durable than wood blinds.
3. Vertical Blinds
These blinds are great for offices and living rooms with large windows as they naturally complement the shape of these windows and make the room appear bigger. With better tilt and angle capabilities, they offer a range of light control possibilities. They are available in a wide range of materials, styles, textures and finishes and can be cleaned and maintained quite easily.
4. Venetian Blinds
Venetian blinds offer a great blend of functionality, elegance and durability, which makes them a popular option for windows in homes and businesses. They offer almost effortless light control and privacy – one only has to angle the blades to control the intensity of light that's wanted inside the room. As far as maintenance goes, these blinds only need a simple wiping down with a damp or microfiber cloth to be restored to their clean and bright best.
5. Mini Blinds and Micro Blinds
Their sleek appearance – the slats are one inch thick for mini and half an inch for micro, makes them almost invisible when opened. This ability to be there and yet not 'stick out' into their surrounding ambience enables mini and micro blinds to up the elegance of any space that they become a part of. They offer easy light control and come in a wide range of colors, textures and finishes.
6. Allusion Blinds
Imagine the versatility of a vertical blind coming together with the look and feel of a curtain. Since these blinds have no chains at the bottom, it's possible to 'walk through' these blinds without lifting them up from the bottom. They are also child-friendly and therefore, highly safe for use in a range of environments. The delicate flowing material makes these blinds stylish in appearance while their convenient movement makes it easy to brighten or dim the light in any environment.
7. Panel Track Blinds
A relatively new entrant in the window coverings segment, these blinds consist of a panel of material that's attached to a sliding track system which is mounted above the window. The panel can be slid across the track to open or close the window. The key advantages include easy replacement, minimal movement and less dust. Panel blinds are sleek in appearance and are available in fabrics, vinyl, sheer weaves and solid wood.
8. Roller Blinds
Based on a simple operational mechanism, roller blinds can be rolled up or pulled down a window with the greatest of ease. Made to endure, these blinds provide an elegant look that can last for years no matter what the climate or how frequent the usage. They are also easy to maintain and only need a wipe to get dust-free again.
9. Vision Blinds
Also referred to as the Day and Night blind, the Vision Blind offers an ideal balance of eye-catching style – available in metallic, subtle as well as natural wood colors, light control and privacy. A single control chain allows the user to raise or lower the blind to any height across the window to increase or soften the daylight entering the room.
10. Outdoor Blinds
Outdoor blinds are a great way to keep areas like the patio protected from the onslaught of changing seasons and other elements. Their range of styles allow them to blend in with the look and feel of any home and their opacity ensure a high degree of privacy as well as energy efficiency.
We hope through this article, you'll get a quick and effective understanding of the top blinds demanded by a majority of homeowners today. If you're looking for a local window treatment company that deals in  affordable blinds and shutters, blinds and window treatments near you, affordable blinds and shades, window treatments installation, accent blinds and shutters, do give us a call. At Bartlett Blinds and Shutters, we're known for offering incomparable quality at unbeatable prices along with personalized attention and unparalleled convenience. All you need to do is call us and schedule a free in-home consultation with us and we'll handle it from there.