Pros and Cons: Roman Blinds vs. Roller Blinds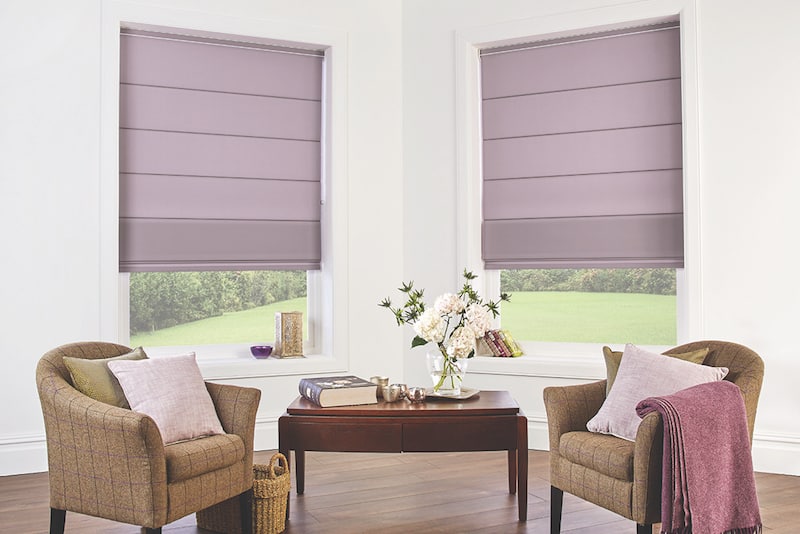 Life has ample situations where you need to pit one choice against another. This car versus that car. This dress versus that dress. This school versus that school. This job versus that job. Things are not too different when it comes to your windows too. Roller Blinds versus Roman Blinds. Well, at Bartlett Blinds And Shutters we've helped hundreds of customers find the best possible answers to their 'this versus that' situations. Here's a quick read, put together by our experts, which will help you understand the facts about both types of blinds before ultimately picking one that makes the best sense for your home.
Roman Blinds
Roman Blinds are increasingly being seen as a great alternative to curtains for a variety of reasons. Some of these include a wide range, ease of operation, savings in energy consumption, and great affordability. Roman Blinds are made of mounting slats that are connected to cords, at the back of a fabric panel. These cords pull the slats together when the blind is lifted, creating a pleated look.
Pros
1)Choose your style
You have a plan for your décor. With a wide range of choices, Roman Blinds can help you bridge the gap between plan and action and take your home from well, functional to gorgeous. So, whether you desire a look of minimalism, an expression of tradition, or a touch of modernity, you'll find enough designs and fabrics to choose from and make your dream a reality. 
2)Helps maintain ideal temperatures
Windows perform the passive role of heating and cooling systems when they're endowed with the right kind of window treatment. The heavy fabric that Roman Blinds are composed of, transforms them into great insulators in all seasons. Count on them to keep the heat out in the summertime and the warmth in during winters. 
3)Stay private 
Roman Blinds can help you achieve something most celebrities can only dream of having. Privacy. Made with one whole piece of fabric, these blinds come without any gaps in between for light to filter in and give the world outside a peep into your home and life.
Cons
1)Partial window blocking
Roman Blinds are usually stacked at the top of the window before you decide to open or close them. This makes the upper portion of your window unavailable as far as entry of light and breeze is concerned.
2)Limited range
If you think Roman Blinds will make it from the showroom to your window straight, think again. These blinds come in limited sizes and shapes and you'll need to customize them as per your windows or décor.
3)Vulnerable to moisture
They may have the strength to block sunlight but you won't find the same capability when it comes to withstanding moisture or humidity. Roman Blinds hold onto moisture which could lead to issues of dampness and mold growth. Rule them out for spaces such as bathrooms and kitchens.
4)Risk of physical harm
Roman Blinds are operated by a cord, which when left dangling can pose a serious risk to the safety of children and pets.
Roller Blinds
From bay windows to skylights, Roller Blinds can be a great option for virtually any type of window. Their versatility along with other advantages mentioned below, make them a quick and simple way to bring about a significant change in your room's décor. Roller Blinds consist of a single stretch of fabric that's operated by a pull cord at the bottom of the blind.
Pros
1)Wide range of choices
Roller Blinds come in a wide range of fabrics ranging from opaque to translucent. Whether you're looking for something heavy to reduce the sun's glare or something delicate to elevate your home's elegance, Roller Blinds will fit your needs perfectly. Another advantage is, that there's no excess fabric that you'll need to roll or stack up.
2)Safe for kids
No loose cords to worry about, which could end up entangling playful children or unsuspecting pets. Roller Blinds come with safer operating options that are chain-driven, spring-assisted, or fully motorized.
3)Longer-lasting charm
When you invest in Roller Blinds, you can be sure of both your money and style go a long way. Because they're made using high-quality UV-treated fabrics and durable steel tubes, these blinds demonstrate superior endurance and resistance to fading.
4)Fits your budget, not just your need
Roller Blinds may not be able to outmatch the cost-effectiveness of curtains but they're certainly more affordable than Roman Blinds. Talk about getting style and savings in one go.
Cons
1)Not ideal for all homes
Opposites attract but not when it comes to window treatments. Roller Blinds are contemporary in design and this makes them a misfit in spaces that follow classic or colonial architectural styles. Also, older homes tend to have window shutters that cannot be fitted with Roller Blinds.
2)Risk of frequent malfunctions
Sometimes, what seems like a boon may also end up turning into a headache. While Roller Blinds with an electronic system offers you greater ease of operation, the downside is frequent malfunctions and therefore, expenses relating to repairs or replacement.
3)Need for extra maintenance
Some window treatments like curtains, won't come with labels bearing special instructions. With Roller Blinds, however, you will be required to make a trip to the dry cleaners every once in a while.
If you're looking to make a choice between Roller and Roman Blinds, we hope this article will help you make the right decision. If you're looking for Roman Window Blinds & Shades, Custom Blinds in Philadelphia, or Blinds Installation in Philadelphia, give us a try. We're Bartlett Blinds And Shutters and we're reputed for providing our customers with high-quality custom window treatments without the hassle of installation or the stress of affordability. Give us a call and whether you pick Roman or Roller Blinds, we'll work to ensure you get the windows that you're looking for.