A Complete Buying Guide For Roman Shades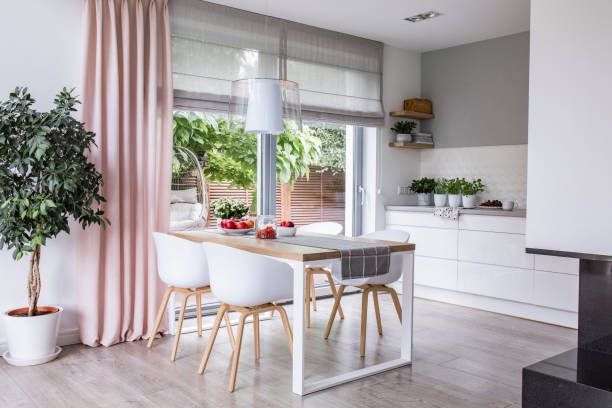 A building isn't complete without windows. While complimenting the other elements of a plan, windows can easily enhance the aesthetic appeal of that respective structure. Like savvy furniture and smart storage spaces, window treatments can be considered as one of the beautiful ways to express the vibe of a place.  They allow homeowners to add a personal touch to their interiors, and their versatility makes them suitable for both bustling offices and living spaces. 
If you find an elegance in simplicity then Roman Shades make the best choice for your window coverings. Roman shades are classic fabric-based window and door dressings that can be raised and lowered using a tailored series of vertical chords. 
There are a lot of factors that determine a good Roman Shade for Window Treatments. Here is a quick guide to what you should know about Roman shades to help you pick the perfect fit.
1. Roman Window Shades and Roman Window Blinds are not the same!
Often Blinds and Shades are assumed to be the same. Blinds are hard window treatments composed of horizontal slats, whereas shades are soft window treatments made of one or more pieces of cloth. They both achieve the same goal of covering your window, but they differ significantly in terms of function, pricing, style, and other features.
2. Colour, Fabric, and Design
If you pick the proper color, pattern, and fabric to suit your overall décor, Roman shades may improve the overall look of any space. Cotton, linen, polyester, and silk fabrics are available in a variety of designs such as solids, patterns, stripes, and flowers. 
If your room has a neutral color scheme, pick a window treatment with colorful and strong patterns to give depth. If your décor is vibrant, a neutral-colored fabric can soften its overall impression.
3. Mounting Options
Mounting the roman shades inside or outside the window frame is a decision that needs to be taken prior to purchase. If you're selecting an inside mount, you may pair it with other window treatments, such as blackout curtains. Outside mount window treatments, on the other hand, do not allow for the addition of additional covers.
4. Artsy Types And Folds
This folding design has a basic look. When the shade is lowered, it remains flat against the window; when lifted, it stacks neatly at the top. They can be used in conjunction with floor-length drapes to provide effective light-filtering and privacy choices.
This design of Roman Shades is also known as the European Fold. The style includes a rod sewed into the bottom to produce a straight and firm line.
This style is also known as the soft fold. It generates a rounder and softer fold while retaining a straight border along the bottom of the treatment. When lifted, it gives the impression of being voluminous; when dropped, the curving fold is evident.
Balloon Roman shades are available in both formal and casual patterns, making them ideal for use in any  space. This shade type is ideal for settings that require more of a decorative touch than practical use. This is due to the fact that they require a lot of dressing up, which may be difficult if you need to lower or raise them frequently.
Tulip Roman shades are a beautiful work of art with skillfully handmade pleats. They run along the headrail in an inverted fashion.  They look best when used as a stationary window treatment, making an elegant statement.
5. Other Considerations 
Humidity and Shades don't go well together. That is because excess moisture and inefficient venting can create mildew problems in your drapes as their crisp pleats get softened and folds get flattened out.


Cordless Window Shades would be suitable for families with toddlers and kids who could potentially wrap themselves into risky  pull cords or continuous loop cords. 


Choosing Blackout Liners for creating a dark environment during the day and planning for a significant outside mount overhang comes with a risk of creating light cracks around the respective window fixtures.


It is normal to feel overwhelmed when met with a plethora of possibilities. If you're searching for an excellent window  treatment provider in the area, you can't go wrong with Bartlett Blinds And Shutters. From Balloon to Tulip, we have a fabric and fold of any kind. It is a well-known fact that a decent fabric used for making a Roman Shade will also give superior insulation, resulting in lower energy expenditures. Schedule your free appointment with us now to get the right window shade that reflects your lifestyle!