The Benefits of Custom Window Treatments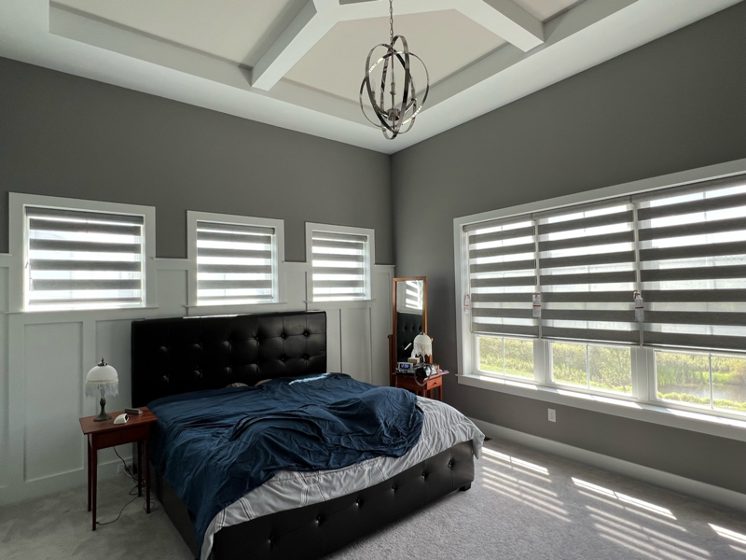 Want to elevate the appearance and appeal of your home?
The good news is that you don't have to build an addition or invest in a major construction project. 
The answer you need may be as simple as furnishing your home with new window treatments. 
In the following article, we'll explain how investing in custom window treatments offers an array of amazing benefits beyond beautifying your home. 
Custom Window Treatments Add A Personal Touch 
A house is not a home until you give it that personal touch. 
From furniture that's practical and comfortable to the paint that complements each room to the unique decor found throughout, there are lots of ways to make a home truly yours. 
You can add custom window treatments that list. 
No matter if your overall aesthetic is traditional or contemporary, you can tie the whole look together with the right shades, blinds, shutters or drapes. 
Store-bought window treatments are designed with a "one-style suits all" approach. That's simply not the case. Every home has its own specific spaces. And every homeowner has their own unique taste. 
By choosing custom window treatments, you ensure that each one fits accordingly in its defined space. Unlike mass-produced window treatments, you have a wider selection of materials to choose from. 
You don't have to settle for the blinds, shades, shutters and drapes found in hundreds and thousands of other homes. Instead you can enjoy customized creations that capture your home's essence. 
Window Treatments Help Increase Your Privacy 
Adding a decorative touch to your home isn't the only benefit of custom window treatments. 
These multi-purpose accessories are as practical as they are beautiful. 
Whether you need roller shades to control glare and provide complete privacy for your home office, blackout blinds for your home theater room, or bedroom drapes for a more restful sleep, custom window treatments can provide those solutions, while adding an extra level of privacy to your household. 
Outfitting your home with window treatments prevents unwanted eyes from peering into your home so you can truly relax and enjoy greater peace of mind. 
Window Treatments Help Improve Energy Efficiency 
As if creating a more personal and safe environment weren't enough, custom window blinds, shades. Shutters and drapes can also help make your home more energy efficient!
In addition to their decorative and privacy-enhancing qualities, many custom window treatments also provide year-round insulation, too. 
During the spring and summer months, these window treatments block out the sun's rays to keep your home more cool and comfortable. When the frigid fall and winter temperatures arise, these same window treatments trap the heat to provide a more warm and pleasant environment.  
Best of all, these insulating properties help your heating and cooling systems operate more efficiently. This in turn reduces your expenses! 
Window Treatments Help Increase Your Home Value 
When the time comes to move to a larger house to accommodate your expanding family or downsize to a smaller place when the kids leave the nest, you'll be happy to know that your window treatments can lend a helping hand. 
No, they won't help you pack your possessions. But they may help your resale value, 
Elevated aesthetics, increased privacy and energy-efficiency are all desirable qualities that appeal to potential buyers. And your custom window treatments provide all three of them. 
In those ways, custom window blinds, shades, shutters and drapes are an investment for the future. 
Enjoy the Benefits of Custom Window Treatments from Bartlett Blinds! 
Without a doubt, custom window treatments are a smart choice for your home in many ways. 
Bartlett Blinds offers homeowners an eclectic selection of affordable custom window treatment options. 
Not only does our team bring the showroom to your home, they'll also professionally install your custom window blinds, shades, drapes or shutters, too! 
Contact us today to learn more about our custom window treatment services!